Est 2004 Aussie House Sitters is the flagship site of what is now the world's largest suite of five country exclusive House Sitting Websites.
The five platforms in the Aussie Group are Kiwi House Sitters, House Sitters Canada, House Sitters America, House Sitters UK and Aussie House Sitters.  

Aussie House Sitters claim to be "the largest, most trusted pet and house sitting site in Australia" is fully justified.
With fabulous features, helpful search filters, a brilliant Alert system and dedicated admin support, Aussie House Sitters consistently list more house sitting jobs in Australia than any other house sitting website on the planet!
BEST TWO FEATURES
BEST FEATURE 1:  Aussie House Sitters have the best search filters of the majority of house sitting websites. 
Painstakingly developed over the past eighteen years, Aussie's search filter make it possible for those on both sides of the house sitting fence to narrow the search parameters to more accurately find who and what they're looking for.
Aussie offer house sitters three ways to search houses to 'sit'.
SEARCH TIP 1  People familiar with the country often search State→Region→Area.
SEARCH TIP 2  Those for whom Australia is less familiar often find it easier to search house sitting jobs on Aussie's Interactive Map, or by selecting houses to sit within a 5 to 250 km radius of a specific Location.
House sitting jobs can be displayed by Date (SOON) or Most Recently Added (NEW).
Once house sitters have nominated their preferred Location, they select Dates, Sit Length, Pet Preferences, House Type (House, Apartment, Farm).  Other filters include Families Welcome, Pets Welcome, Space for Caravan, No Garden Care, Smoking permitted.
SEARCH TIP 3 Another way house sitters land house sitting jobs is by being contacted directly by home owners in search of sitters who want to 'sit' in their location.
This Direct Contact feature is used more often by home owners on Aussie than it is on any other house sitting website.  We explain why this is so and the Benefits of this Unique Feature, here.
⇒House Sitters – How-to Apply for house sitting jobs with confidence
Aussie offer home owners two methods to connect with 'sitters'.  
Method 1  The most common way Australian home owners connect with house and pet sitters is to register, place a FREE Job Ad and wait for house sitters to apply.
Applications from hopeful house and pet sitters can be expected within 24 hours – often sooner.
Home owners then short list preferred applicants and respond to them via the site's internal messaging system.  Once two-way communication is established, both parties communicate incognito until such time as they agree they're a good "fit" and decide to share personal contact details.
Method 2   Aussie House Sitters offer Australian home owners the ability to make direct contact with verified house sitters who want to 'sit' where they live on the dates they want to go away.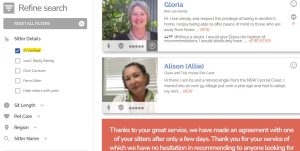 Home owners do not necessarily need to place and publish a Job Ad.  A feature unique to Aussie is that home owners need only register their details to make Direct Contact with house and pet sitters.
Once registered, after browsing profiles of house sitters at "Find House Sitters" it is possible to narrow the search by selecting 'Region', 'Sit Length', dates a house sitter is needed plus any other filters that apply, such as 'ID Verified'.
Home owners are then presented with a list of house sitters who match their chosen criteria.
We explain more about this Unique Feature here.
⇒Home Owners – How-to find house sitters for home & pets
BEST FEATURE 2:  House Sitters can significantly reduce their annual renewal fee with My Rewards.
A combination of Refer a Friend and Loyalty Rewards, My Rewards automatically accumulate and reduce the following year's membership fee. If the accumulated Rewards completely pay off the next year of membership, any left over earnings carry over to the following year.
Refer a Friend make it possible for house sitters to earn $A10 off their renewal fee. PLUS their friend gets $A10 off their joining fee.  There is no Limit to how many times a member can "Refer a Friend".
In addition, Loyalty Rewards of $15 p.a. are earned for each year of membership.
UNIQUE FEATURE!
More home owners make direct contact with house sitters registered on Aussie House Sitters than any other house sitting website!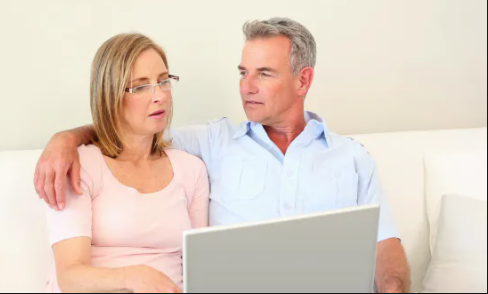 This is because, unlike all other house sitting websites, home owners do not have to advertise their house sitting job and need only register to connect with member house sitters.
Once registered, home owners are able to place a free add and wait for house sitters to contact them. Or they can scroll the list of house sitters and make direct contact with any whose available date, location and profile look a suitable match for their needs.
Aussie House Sitters give home owners the option to connect with house sitters in either or both these ways. As can be seen from the table, fifty per cent of home owners contact house sitters directly – much more than on any other house sitting website.
This unique feature significantly increases the number of Aussie home owners who make direct contact with house sitters. 
Each month Aussie update statistics on their home page of the number of NEW house sitting jobs listed each month for the past three months and the number of direct, first contact messages from home owners to house sitters.
ROBI'S RECOMMENDATION
Aussie House Sitters is the best platform for people who want access to the largest number of house, pet and farm sitting jobs Australia-wide.
Aussie consistently list more opportunities than any other site in Australia's Capital Cities and Tourist Destinations.
Feefo REVIEWS
At April 2022, based on 3,053 verified reviews, independent review platform Feefo rate Aussie House Sitters 4.9 out of 5.

An independent review platform, Feefo publish only genuine reviews by people verified as members of Aussie House Sitters.  Feefo manages the overall ratings and show all reviews – both positive & negative.
Meet the Team at Aussie
Each member of the Aussie Team is committed to the shared values of Respect and Trust. With a common vision to help the pet loving community travel and save money, each member of the team plays a vital role in making the vision a reality.
COMMON FEATURES of the TOP COUNTRY DEDICATED HOUSE SITTING WEBSITES
Home Owners pay nothing to join and connect with house sitters registered on Aussie.  FREE home owner membership is a common feature of each of the best country dedicated sites for house sitting Australia, New Zealand, UK, USA and Canada.
Global sites House Carers and MindMyHouse also offer FREE membership to home owners.
All other house sitting websites charge home owners to connect with house and pet sitters.
⇒Compare features side-by-side of the best house sitting websites for Australia
⇒We explain What House Sitting is, Exactly.
WHO ON EARTH IS ROBI?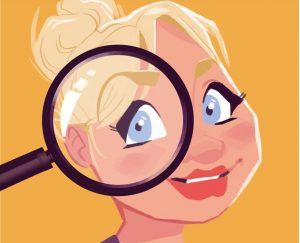 In the course of 11 years house sitting full-time, Robi has been a member of every house sitting website on the planet.
House sitting as a lifestyle choice since 2011, Robi has connected with 300+ home owners to complete 110+ first time house sits plus numerous repeat 'sits'.
Knowing choice of house sitting website can be a game changer, in 2013 Compare House Sitting® was launched to monitor, analyse and review house sitting websites in the marketplace and point people in the direction of the best for their circumstances.
COPYRIGHT Robyn-Lea Schulz © 2019-2022 All Rights Reserved 
FOOTNOTE 1:  Use of the term "Best" is not a product rating and is subject to our General Disclaimer.