House sitting as a free service between people who co-operate for mutual benefit is more common in Australia than any place on the planet.

For this reason more than nine house sitting websites target Australia, a mix of country dedicated sites exclusively for Australia, and global sites that offer opportunities world-wide.
But rather than being helpful the plethora of platforms is causing confusion in the marketplace.
Because if you don't know the qualities to look for, how can you select the best house sitting site for your circumstances?
Which house sitting website is best for Australia?
The most important measure to establish which house sitting website is best for a particular location is the number of house sitting jobs consistently on offer at that location.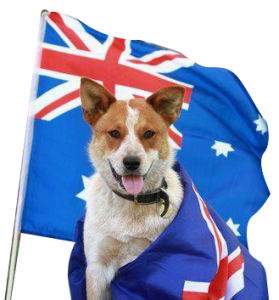 Because if assignments are seldom listed, the chance of finding a suitable house sit to apply for is unlikely.  It is for this reason that the best sites for house sitting Australia are the four country dedicated house sitting websites exclusively for Australia.
Each platform consistently lists hundreds, often thousands, of house sitting jobs Australia-wide.  For decades these four sites have been connecting Aussie home owners with house sitters, and are trusted to deliver on their promise.  The websites are Aussie House Sitters, Mindahome, Happy House Sitters and the world's longest running house sitting service, The House Sitters.
⇒We compare features of the best websites for house sitting AU here.
Why are country dedicated sites best for house sitting Australia?
House sitting websites dedicated exclusively to Australia consistently list more house sitting  jobs Down Under compared to platforms that service the global house sitting community.
Since March 2022, when Aussie home owners previously grounded by a pandemic started leaving home in droves, the four best sites for Australia have listed no less than 4,100 assignments Australia-wide, combined.  By contrast, global sites that service the world-wide house sitting community list very few house sitting jobs in Australia.
An exception is the world's largest house sitting website, Trusted House Sitters. Established in England in 2012, Trusted House Sitters are extending their reach to all areas of the world, including Australia.  Now mid 2022, for months Trusted have consistently listed 520 house sitting assignments Australia-wide.
⇒ Click for our Top 5 Tips on How-to Get Started as a House Sitter.
Why don't global sites list many house sitting jobs in AU?
Most Global sites charge home owners to register and connect with house sitters.  The annual fee for home owners range from 65Euros to join Nomador, to 259GBP to join Trusted House Sitters.  But Aussie home owners who have been connecting with house and pet sitters for free, for decades, question the need to pay to join a house sitting website.
---

The four country exclusive house sitting websites showcased have been servicing Australia for decades. 
Each is Australian owned and operated. Each offers FREE membership to Aussie home owners.
GoCompare the

¹BEST

House Sitting Websites for Australia
| AUSTRALIA | EST. | M'ship Fee HOUSE SITTERS | REFERENCES External | Online Reviews | ID VERIFIED | ALERTS | VISIT WEBSITE |
| --- | --- | --- | --- | --- | --- | --- | --- |
| COMBINED, THESE FOUR COUNTRY DEDICATED HOUSE SITTING WEBSITES LIST A MIN OF 5,200 HOUSE & FARM SITTING JOBS AUSTRALIA-WIDE (May 2022) | | | | | | | |
| AUSSIE HOUSE SITTERS | 2004 | AU84 | YES | YES | YES | YES | |
| Aussie's claim to be "The largest, most trusted House & Pet Sitting website in Australia" is fully justified.  Jump to ROBI'S REVIEW | | | | | | | |
| MINDAHOME | 2006 | AU59 | YES | YES | NO | YES | |
| Mindahome is one of the most user friendly house sitting websites in the world. Jump to ROBI'S REVIEW | | | | | | | |
| HAPPY HOUSE SITTERS | 1999 | AU59 | YES | YES | NO | YES | |
| Famous for their Customer Service, Happy House Sitters are available 8am-8pm 7 days a week.   Jump to ROBI'S REVIEW | | | | | | | |
| The HOUSE SITTERS | 1993 | AU50 | YES | NO | YES | YES | |
| The World's longest running House Sitting service, The House Sitters have a loyal following of Aussie home owners.   Jump to ROBI'S REVIEW | | | | | | | |
Why is house sitting so popular in Australia?
House sitting as a free service started Down Under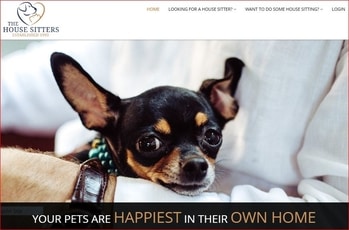 The concept of house sitting as free service was birthed in Australia in 1993, when two young Aussie graduates identified the opportunity for people to "earn" themselves a free holiday house by providing absent home owners with live-in house and pet care.
And so began The House Sitters, then a printed directory mailed to subscribers, now one of the best four house sitting websites for Australia.
Aussie home owners took to the concept like a dog to a bone, and  in 1999 Happy House Sitters was established, followed in 2004 by Aussie House Sitters and Mindahome in 2006.  Over the past 20 years these four Australian owned and operated platforms have gone from strength to strength, continually upgrading their websites and implementing innovative features and functions.
⇒ Click for our Top 5 Tips on How-to Find Sitters for Home & Pets
Australia's popularity as a visitor destination
Australia offers something for everyone.
As a remote yet highly developed country, Australia has captivated the world with its unique natural wonders and exotic wildlife.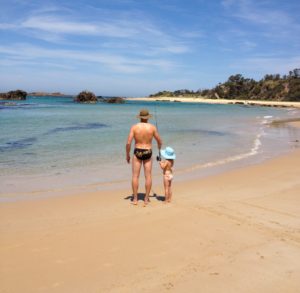 Australia is one of the few countries that, no matter your travel taste, budget, or age, it can deliver a travel experience that can't be found anywhere else.  With 10,685 beaches, 8,222 Islands, 500 National Parks, the bush, the outback, beaches, bays, vibrant tourist destinations, cosmopolitan cities, country towns, quaint villages, oceans rich in sea life and the world's largest coral reef, when it comes to finding places of interest to visit, both tourists and locals alike are spoilt for choice.
Great weather to be found all year 'round
A medium-sized continent separated from polar regions by the Southern Ocean, Australia is not subject to movements of frigid polar air during winter.  Because of this the weather is not Too Hot, not Too Cold, but Just Right, somewhere in the Land Down Under, all year around.
Australian workers receive more paid holidays than most
Both full-time and part-time workers receive a minimum of 20 days paid annual leave every year.  In some occupations workers are entitled to more holidays. Nurses receive six weeks and School Teachers around 12 weeks paid annual leave.   After 10 years of service most employers award employees three months Long Service Leave. In addition, workers annual leave entitlement increases from four to six weeks.
Australia is a very safe country
Ranked as the 5th safest country in the world, Australia has a stable political system and low crime rate - so low that police officers carry batons, not guns.  Australians generally experience a safe lifestyle, and the low crime rate makes it possible for people of all ages to travel nation-wide in relative safety.
How do House Sitting Websites work?
House sitting websites provide a virtual meeting place for those on both sides of the house sitting fence.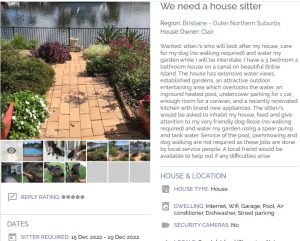 Similar to AirBnB members register, write up their details and communicate with people of interest via the site's secure internal messaging system.
Home Owners register and advertise their house sitting job – Location, Dates, description of the Pets to be cared for and details of their home; be it a house in the suburbs, apartment in the city, farm in the country, or cottage at the beach.
On the other side of the house sitting fence are House and Pet Sitters – singles, couples, families who register to find houses to 'sit' and pets to pamper, either for a short while, or a long time.  In their Profile house sitters give a short description about themselves and explain why they want to 'sit'.
Personal details such as email and exact location are protected until both parties agree to connect.
No money changes hands
By entering into a house sitting arrangement under the value-exchange model of house sitting, no money changes hands.  House sitters do not get paid to 'sit', nor does a homeowner get paid to have their house 'sat'.  There are many advantages to this arrangement, one being that Insurance Companies regard free house sitters as "invited guests."  As such live-in house sitters are covered under the home owners' Home & Contents Insurance Policy, therefore house sitters are insured against accidental damage during their stay.
FOOTNOTE 1:  Use of the term "Best" and "Good" and "Reliable" is not a product rating and is subject to our General Disclaimer.
EXPLANATION OF TERMS USED BY HOUSE SITTING WEBSITES  (Click here to Download as PDF)
| TERM | WHAT DOES THIS MEAN? |
| --- | --- |
| Alerts: | House Sitters receive Alerts when House Sitting job(s) are published that match their specified preferences. Available in either in Real Time or every 24 hours, by Email and/or Twitter. As competition increases for house sitting jobs, critical House Sitters activate, monitor & respond to Alerts promptly. |
| Average House Sitting Jobs: | Number of house sitting jobs listed each month averaged over the six month period Aug 2019 to Jan 2020. Also known as House Sitting Assignments, House Sitting Listings, refers to the number of Home Owners or Renters who list (publish) their house and pet sitting assignment on a house sitting website. |
| Home Owners (HO): | A generic term used to describe home owners and renters who invite house sitters to live in their home and/or on their property in their absence. |
| House Sitters (HS): | A generic term used to describe people who offer their services as a house and/or pet sitter. HS may be singles, couples or a group e.g. families. |
| ID Verification: | Registered house sitters are given the option to have their ID verified by a third party service provider. Personal details are checked against public databases for the purpose of confirming that a person is who they say they are. The databases are different for each country. All are established and secure sources, usually Government Depts and Credit Agencies. |
| Joining Fee Home Owners: | Some house sitting websites charge HO an annual fee to register. All International (global) house sitting websites charge HO, with the exception of House Carers and MindMyHouse which both offer HO FREE membership. Most country dedicated house sitting websites offer HO unlimited FREE membership. |
| Joining Fee House Sitters: | Fee paid by House and Pet Sitters to register on a house sitting website and connect with Home Owners who are registered with the site. Fees are usually paid annually. Some sites offer the option of 3, 6, 12 or 18 months membership. |
| Online Reviews: | Most house sitting platforms offer HO & HS the ability to leave a 5 Star Review for one another. Each review is based on specified criteria e.g. Communication, Pet Care, Garden Care, Cleanliness, etc. Not all house sitting sites offer this feature and instead, encourage written References. |
| Read Receipt: | Both HO and HS can see whether or not the other party has opened their message. On some sites it's possible to see exactly when the message was opened, but most simply advise "Message Read", |
| Renewal Fee Sitters: | Fee paid by House Sitters to renew their membership to a house sitting website. Fees are usually paid annually. Some sites offer the option of 3, 6, 12 or 18 months membership. |
| References External: | Members upload written references from external sources e.g. past home owners, character references, landlord references. |
| References Internal: | Home Owners write House Sitters an internal reference. Some sites also allow House Sitters to write a reference for the Home Owner. In 2016 Aussie House Sitters introduced two-way References/Reviews. Some platforms have now replicated this feature. |
| Social Media: | Beware of house sitting websites or house sitting search portals who do not show their face! Social Media is increasingly important in the creation of Trust. |
COPYRIGHT Robyn-Lea Schulz © 2015-2022 All Rights Reserved