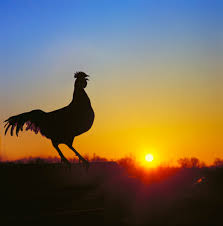 The crowing of a rooster disturbs the stillness of the morning, announcing morning has broken.   His crowing crescendo wakes me and, rolling over to look out the floor to ceiling windows, I see another lovely day is dawning.  Cosy and comfortable in what is to be my bed for the next four weeks, I chide myself I should be bouncing out of bed to explore this new and very beautiful environment.
Another day, another house sit

This luxury house sit, my thirtieth in the past four years, is on five acres on the outskirts of Newcastle, a two hour drive north of my home town Sydney – read My Story here.  I walk to the Juliette balcony off my top floor bedroom to survey the picturesque property below.
Directly beneath lies a small dam flanked by reeds and rushes which filter the rainwater that gravity feed into it along the pebbly water course from the adjoining hill.  In the early morning light I see the house is positioned in the centre of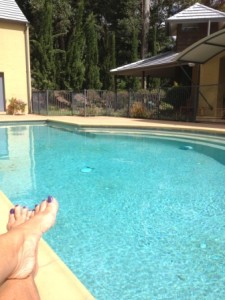 lovely landscaped gardens. To the right on the side of a hill is a tennis court, and beyond that the chicken enclosure.   Adjacent to the home is a pool and within the pool enclosure, a quaint little building houses a shower and change room.
Who needs to be a millionaire?
Not me!  Because for the majority of the time I get to live like one – for free.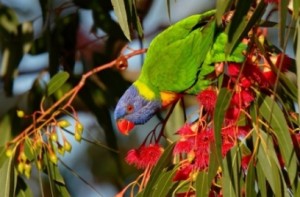 From my top floor perspective I observe the order of the manicured lawns and flourishing gardens: walkways flanked by native bushes, rose gardens in full bloom and strategically placed pencil pines line the perimeter of the tennis court.  Eucalyptus trees, more commonly known as gums, abound – ironbark, spotted gums, scribbly bark and majestic grey gums are a few I recognise.
My house sitting jobs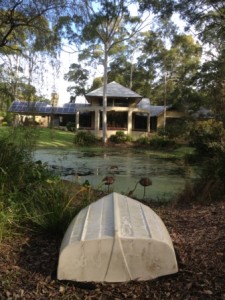 My first house sitting job for the day is to let the chooks out of their hen house and into the yard and give them their daily allowance of chook seed, plus my vegetable and salad leftovers.   Early afternoon I will collect their eggs, then at dusk lock them into their little wooden house for the night out of harm's way of marauding foxes.Read more
Another of my house sitting jobs is to feed and care for the dog, an elderly Golden Retriever.  It is her choice to live outside, only coming inside in event of a storm.  I don't even need to take her for a walk, as she prefers to saunter around her Estate when the mood takes her and arthritis allows.
And that is the sum total of my house sitting jobs for this particular assignment.  The home owners employ a full-time gardener, part-time handyman to clean the pool and do odd jobs, and a cleaner comes once a fortnight.   I figure that in anyone's language this qualifies as luxury house sitting, yet I happened upon it quite by accident – it was just another home owner ad posted on a house sitting website.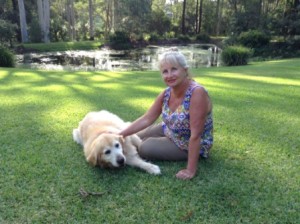 On leaving here my house sitting buddy and I will be house sitting Sydney in a five bedroom, three bathroom house with pool.   In exchange for three months free accommodation we provide live-in security for the home, maintain yard, garden and pool and care for a beautiful Brittany Spaniel.   Walking down the spiral staircase from my upstairs quarters I reflect that, thanks to the wonderful world of house sitting, I have much to be thankful for.
COPYRIGHT © Compare Housesitting™ 2015 All Rights Reserved